Contemporary painter Lingling Zhao's practice is at the intersection of modern painting, mysticism, and traditional Chinese iconography and philosophy luminously expressed in a series of unique imaginary worlds. As such, Lingling's vibrantly colored paintings offer stirring depictions of otherworldly beauty, spiritual beauty and translucent treatment of light and form, intended in part to act as a vehicle for enlightenment and self-discovery.
Lingling grew up in China, and her creative journey began with her architect father whose collection of art and artifacts inspired Lingling to begin drawing and painting at the young age of five, driven by the mystery, complexity and richness of the visual world. Lingling would go on to study fine art at the Southwest State University, Minnesota and earn her BA from the Northwest Textile University, Xian, China. While a student Lingling was the subject of a solo exhibition entitled Tropical Accents, Gallery 416, Minneapolis and St, Paul, 1993. In addition to various private commissions, the artist's work appears as the cover illustration for the book Presentation Techniques of Patterns Design by Shao Hua Lian, HuNan Art Publisher, 2005. Museum collections include the Japanese American Museum, Los Angeles and various private collections worldwide. Special commissions include the installation of paintings at the Spring Hill Suites Convention Center, Las Vegas, 2018, and at The US China Cultural Association, Las Vegas, 2017. Lingling was also the recipient of the Young Artist with Most Potential Grant, McKnight Artist Program. Select group exhibitions include the Sahara Library Gallery, and NUCCA, 2018, Las Vegas, The University of Costa Rica, 1995, and the Northwest Artist Show, Marshall, Minnesota, 1993 among others.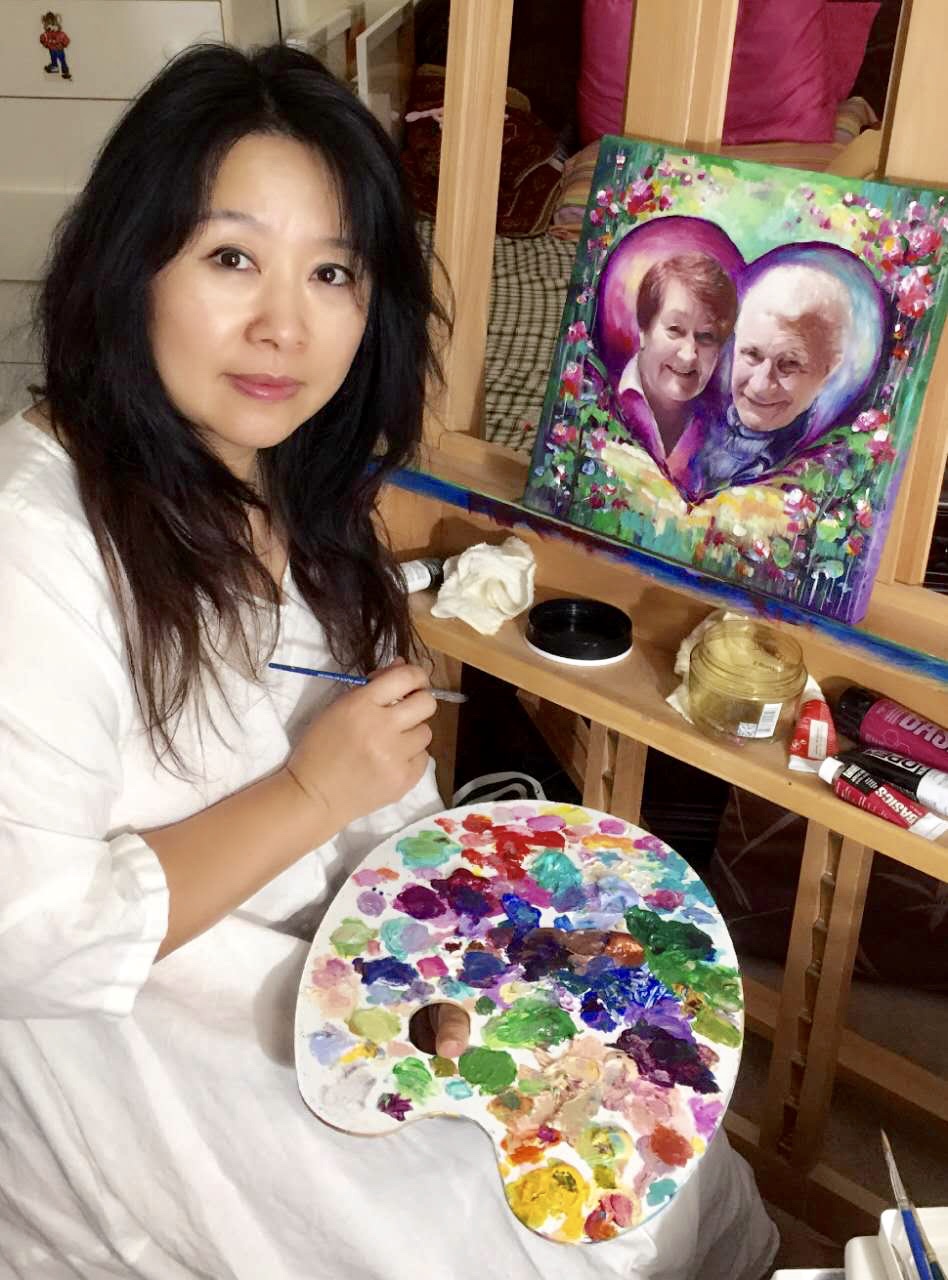 Throughout her career, the painter has remained engaged in the creative potential of various artistic mediums, constantly experimenting with techniques both traditional and as well in new media, studying batik painting at the University of Costa Rica, San Jose, and 3D Animation at Seneca College of Applied Arts and Technology, Toronto. As well, the artist worked as a graphic designer, product designer and game designer exhibiting an adaptability in mediums and an imagination that expands beyond one form of creativity.
Today, her newly reinvigorated painting practice expresses her knowledge of these technologies and techniques in work that is at the intersection of traditional painting, spiritual and esoteric motifs, science and even new technology. In her oeuvre, Lingling weaves the character of traditional Chinese aesthetics in the sense that her paintings evoke a complexity of symbolism and move beyond the depiction of single perspective and offering multiple viewpoints sharing "the beauty of painting is more often combined with poetic writing, in traditional Chinese painting there is a focus not on the actual appearance of a subject, but rather its essential character or quality." Such practice is seen in works such as The Energy Stream of the Dancers in which the artist depicts the ephemeral elemental beauty of movement.
In tandem with this connection to historic approach, mysticism, and layered meaning, Lingling is also interested in the interplay of spiritual experience and the role of art in terms of society, namely the way in which art expresses a shared consciousness and creativity and as such serves to awake spiritual awareness and as well happiness in her viewers. Each painting has its own set of narratives and symbols, the creative process described by the artist as making the immaterial into material, a representation of her creative process or energy making its way to the surface of the painting, becoming whole in the world she creates.
In each world she creates there are however shared themes such as balance and harmony as expressed as the concept of Tao, the way. Lingling also includes the motif of Ying and Yang symbolic of what the artist describes as "the intangible connections between all matters around us and the universe. I wish for my paintings to trigger people's deep consciousness, creating an awareness of their own power to make themselves happy." Current works include a series entitled Ying and Yang (Balance and Harmony), Multiverse in All Matters, and The Cycle of Life in Humans, Butterflies and Bamboo. Similarly, Detached from the Material World depicts the ascension of creatures arranged meticulously yet fantastically as if a metaphor for spiritual enlightenment, the birds in flight among sublime cloud formations, a tortoise carrying a vignette of humans in various stages of life. The complexity of symbolism, paired with oneiric like realism ties the artist's work to the traditions of late twentieth century surrealist practice, particularly the extraordinary worlds of artists like Remedios Varo and Leonora Carrington, the admixture of European and Eastern tropes, mysticism, atmospheric fantastic worlds, hybrid creatures, paired with a naturalist approach to painting. For her part, Lingling creates imaginary terrains that reflect the interwoven cosmos, an alchemic universe made of chaos, knitted into cycles of Yin and Yang, and the magical yet constant becoming of objects and lives. In these worlds, the receptive aspect of Yin interacts with the active Yang, expressed in the dynamism of earthly cycles, the changing landscape, procreation, the growth of men and women as well as larger global narratives. Still other paintings examine the intricacies and magnified beauty of natural life cycles such as the brightly colored intense works like The Life of A Butterfly and Human Life, the rendering seemingly tied to larger themes of interconnectedness. A hyperrealism is layered with fantastic color akin to the sensual and realist style of Georgia O'Keefe. Whatever the comparisons, these imaginary depictions of mystical cosmos and intricate yet grand studies of the natural world are expressions of the artist's own particularly vibrant and personal iconography that seeks to express universal experience.

©2018 Rosa JH Berland Art Historian